HIW staff rejoin the ranks of healthcare heroes
Published 18 May 2020
While most of our staff have being working from home to make sure we continue to carry out our role as the inspector and regulator of healthcare services in Wales, a couple of staff members from Healthcare Inspectorate Wales have answered the call to return to the NHS.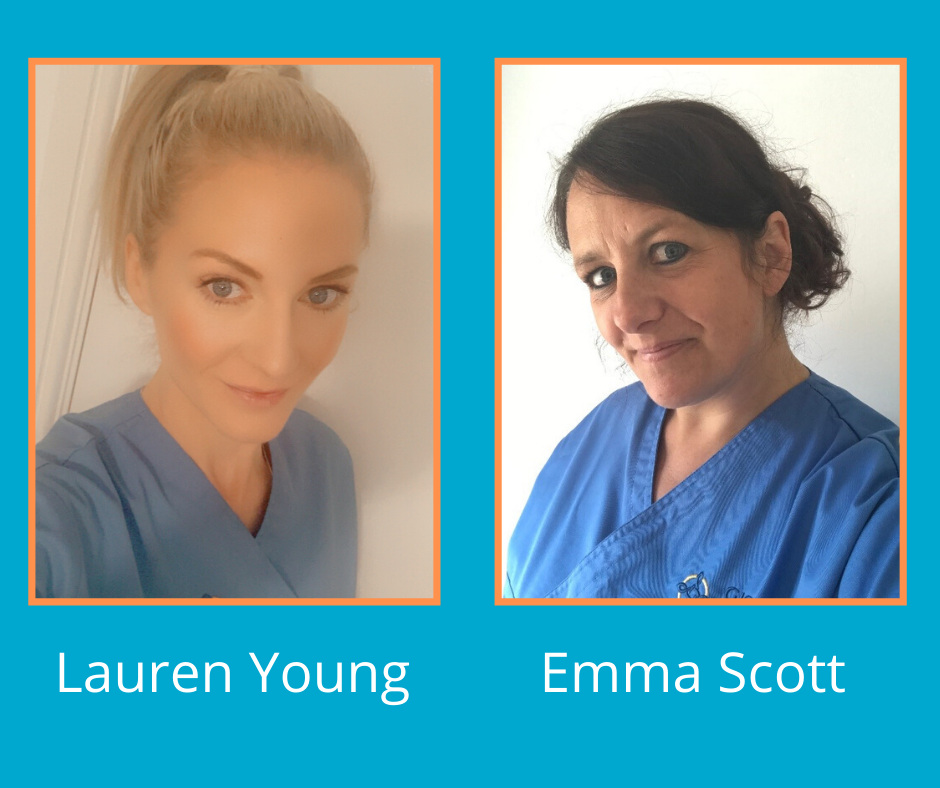 Healthcare inspectors Emma Scott and Lauren Young, both of whom are registered nurses, have been working in front-line NHS roles during the COVID-19 outbreak, while continuing to work for HIW.
Lauren has been working at the emergency department at Prince Charles Hospital in Merthyr Tydfil. 
Prior to joining HIW, I worked at Prince Charles Hospital for almost 7 years, and I'd continued to work shifts regularly there to maintain my clinical skills and professional registration. My work involves treating a wide range of patients in the resuscitation, major and minor injury departments.

I usually work weekend and night shifts. It's not been easy to juggle hospital work alongside my HIW role from Monday to Friday, as well as home schooling my children and fitting around my husband's work, but we have been able to get into a routine.

The department is a very different place to what it was before COVID-19. There are fewer people coming into the unit and the mood is also different. We are all scared and anxious. We all have families to go home to, and we try to protect them and each other as much as we possibly can. Unlike the wards or intensive care, in the Emergency Department, we do not know the full condition of the patients who come through the door. A patient can present with a broken leg, but on assessment can also have a high temperature. We just have to be prepared for any eventuality.
Emma Scott also returned to work for the NHS, initially in the emergency department at Wrexham Maelor Hospital before recently moving on to a different role in a COVID-19 testing unit. She said:
I hadn't been in clinical hands-on practice for nearly five years, but when COVID-19 came along, I made the decision to return. My last clinical role had been at Wrexham Maelor's emergency department and it only felt right to offer my support to them. Returning to work after completing my 'back to floor' training was a challenging transition for me in the circumstances, but the team members I worked with were very supportive.

I have also been able to carry on with my day job for HIW together with being a teacher to my two sons. I have to say that that's been the most challenging of all - I didn't really know how clever my teenagers were until I tried to help them answer their English and algebra questions! I have requested a substitute teacher, but haven't had a response yet!

During my time in the emergency department, I saw many patients poorly with COVID, as well as other patients who had left it late to seek help for other ailments because they were worried about catching COVID. I also saw patients in mental health crisis attending for help in these difficult times.
Both Emma and Lauren have been moved by the support they've received.
Emma said:
I have seen in the past four weeks that NHS staff are courageous and very committed to what they do. I feel overwhelmed by the support I have had from my HIW colleagues, friends and family, and I feel that our regular Thursday evening clap for carers is a great thing to keep up our strength.

We do, however, have to remember that we are not only clapping for the NHS, but for teachers, supermarket workers, delivery drivers, care home workers, the police, the fire service and all other key workers still working hard to make sure that we can work, eat, stay safe at home and get through this pandemic together.
Lauren said:
The clap for carers gives me goose pimples every week. I actually cried the first night we did it! I've always been proud of what we do, but sometimes felt underappreciated, so that feeling was just the best. I also love seeing the rainbows in the windows of houses on my daily runs too. People have been so kind.
When asked why they do it, Emma said:
I chose to return as it felt the right thing for me to do while I am fit and healthy and still registered as a nurse. I felt that, if I could make the difference to just one patient, it would make me very proud.
Lauren added:
The hardest thing I have had to deal with is end-of-life care for patients when family members are unable to be with their dying relatives. Trying to comfort someone's son over the phone while holding their parent's hand is something I will never come to terms with. But I know that this is nothing compared with the grief that they will be feeling for the rest of their lives. So, I think that answers the question of why I do this. It's because I can!
They are both looking forward to life after COVID-19, though with some uncertainty.
Lauren said:
I'm not really sure what life after the pandemic will look like, but I hope that the way people access the NHS will be different and I hope the appreciation for carers continues.
Emma added:
COVID-19 will be here with us for some time and life as we used to know it will be changed forever. But I do think that this has also had a positive effect on how we look at our health, how our health is managed, on our lives and the things we take for granted on a daily basis.
The views expressed in this article are personal and may not represent the view of Healthcare Inspectorate Wales as an organisation.